Posted by Randa M. on 21st Dec 2022
The Best Christmas Socks to Give as Holiday Gifts
Can't think of unique Christmas gift ideas for your loved ones?
Socksat has the solution!
Everyone loves funky socks, a universal gift that suits every occasion.
Socks are the best holiday present because they represent warmth, showcase your personality, and keep you company.
Socksat's funky socks will take you everywhere.
Socksat's cool socks are the first thing you wear in the morning and the last thing you take off at night!
There's no better way to say you love someone than with a cool pair of socks showing them that you're always with them every step of the day.
Socksat has just the holiday socks you have been looking for.
At Socksat we offer the best Christmas gift ideas for your family and friends because we know nothing provides more holiday cheer than some funky socks.
We've compiled a list of vibrant holiday socks that serve both fashion and function to add to your everyday rotation.
Our goal is for you to fill your loved one's stockings with lively Christmas printed crew socks in countless vibrant colors and various patterns during this festive season.
Socks are an affordable Christmas gift for anyone and everyone.
We took into consideration every member of the family's daily essentials.
We meticulously utilized luxurious fabrics and luxuriant designs to help you and your family celebrate in style this holiday season.
We've designed contemporary socks with traditional silhouettes and unconventional iterations.
We've crafted a fine selection of modern socks such as low-cut socks and long socks with minimal and maximal patterns.
Our motto at Socksat is, keeping your socks cool and your feet warm.
Don't forget to also checkout the variety of Arabic socks inspired from our traditions!
Take your holiday sock gift-giving to the next level with our wide variety of Christmas socks.
Don't forget to add a gift box with your final novelty socks purchase for one final polished touch. We have two gift box sizes, one small box that fits 1-2 pairs of socks and one big box that fits 3-5 pairs of socks.
Here is a curated list of the best socks to give as holiday presents for your loved ones to rock this festive season.
The simpler, the better.
Start your morning with a smile with these Santa socks that loudly say Christmas.
These warm socks are available in both Men's and Women's sizes.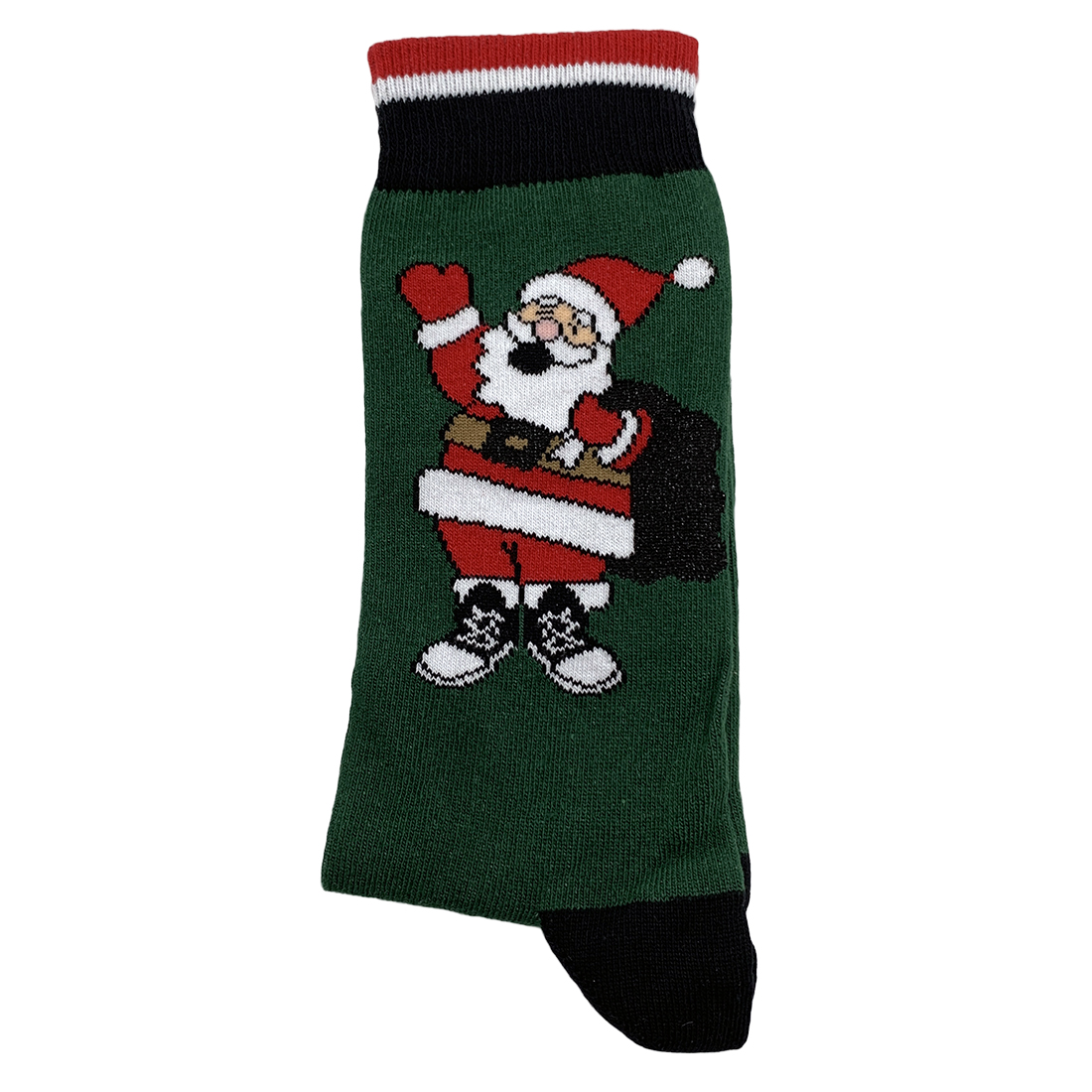 Softer is always cozier.
Make a bold impression and elevate your style with these sumptuously soft Gingerbread Love socks.
These gingerbread man socks come with multiple gingerbread man prints to express your fun-loving nature.
Crafted from a fine elastic and durable blend of cotton, polyamide, and elastane to ensure a comfy feel with effortless chill for just
Give your loved ones these funky socks for a flash of fun.
Sprinkle some holiday spirit.
Socksat wants you to make a statement with your outfit by spreading Christmas joy with these jolly Holiday Spirit socks and letting your socks do the talking this festive season.
Fuse a feminine edge with some fuzzy sock styling this winter.
There is nothing like these unique socks for a head-turning choice that contemporary fashion lovers would appreciate.
This unparalleled pair of socks is the perfect holiday gift that keeps on giving!
Warmer in the winter.
Start your day on the right foot with the unique Coffee Cups & Beans unisex socks ensure you have a great day, every day.
These coffee socks are equally soft and supportive for your feet to be warmer than ever in the winter.
A must-have for those who can't get enough coffee, these novelty socks are a statement of themselves.
These cool socks are the quintessential coffee lover's gift, as it is the best way to convey their love of coffee.
Snowman Socks!
Conclusion
Just like music, socks unite people. Holiday socks are not only the epitome of cozy, but they also represent each person's personality. So let your loved ones know you understand and appreciate them from the depth of your heart with not-so-basic, hype-worthy socks. Socksat cool socks will be the most remarkable thing you own! So why not give this unmatched gift by matching your sock style with your family and friends this holiday season.